Agribusiness
Dairy industry ready to surge
By Steve Porter
March 25, 2011
GREELEY - The region's dairy sector will have to grow significantly in the years ahead to supply the new Leprino Foods plant soon to open in Greeley.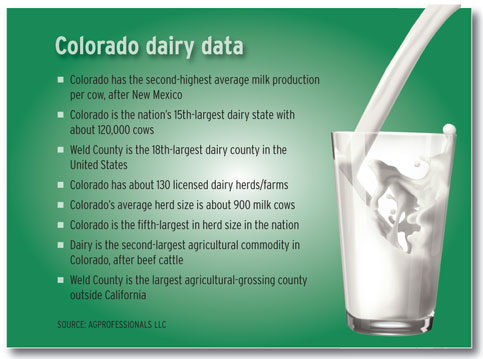 Dairy and agriculture observers say the ultimate projected milk need - about 7 million pounds per day once the plant is fully operational - can't be met with the current number of dairy operations in the area.
Tom Haren, owner of Longmont-based AGPROfessionals LLC, said the number of dairy cows in the state will need to almost double.
"The numbers vary some, but fluctuate from 60,000 to 70,000 cows (needed)," he said. "Our industry won't quite double but will grow dramatically."
AGPROfessionals helps develop agricultural properties. Haren said about 65 percent of his company's business is related to dairies, and he's been getting calls from dairy operators interested in relocating to Colorado.
"We're getting phone calls from around the country and from foreign countries interested in locating a dairy here," he said.
The anticipated opening of the new Leprino factory is a big part of that interest, Haren said. The facility will eventually be about 883,000 square-feet, but the first phase set to open in late fall will be about 127,000 square feet and produce powdered milk.
Last month, Denver-based Leprino began accepting applications for employment at the new plant.
Industry suffering
Nationally, the dairy sector has been suffering in recent years. An oversupply of milk depressed prices, and higher fuel, feed and input costs resulted in shrinking profits for dairy farmers. In recent years, dairy operators have sent part of their herds to slaughter to help reduce the milk supply and pump up prices.
Haren said the industry is beginning to get some life back.
"At our peak back in 2007 there were over 120,000 milk cows in Colorado," he said. "We dropped below 100,000 when the dairy market collapsed, but we're pretty much back up to our previous high."
Haren said Colorado is generally viewed as a great state for dairies with its relatively mild climate, especially in the summer. He said when AGPROfessionals gets out-of-state calls about relocating to Colorado, it's usually a family operation wanting to know details about living in the area, such as the quality of schools and proximity to churches.
Haren said one of the biggest challenges to getting the dairy industry healthy again is in obtaining financing. He noted that the loss of New Frontier Bank in Greeley in early 2010 was a blow to the industry and it's taken some time for other financing institutions to pick up the slack.
He said the ongoing national recession and financial hurdles have also slowed dairy growth.
"Investors and lenders want to see a specific business plan, including risk management and exit strategies," he said. "We have to answer a lot of what-ifs."
New producers needed
The Dairy Farmers of America cooperative has the contract to supply Leprino's milk needs. Les Hardesty, owner of Cozy Cow Dairy near Windsor and chairman of the board of the Mountain Area Council of DFA, said he's also seen increasing inquiries from out-of-state dairy operators considering a move to Colorado.
Hardesty said the DFA intends to give existing producers the first crack at providing milk for Leprino, but even with many of those producers expanding their operations there will still be a need for new dairies.
"It's a balancing act," he said. "We still want our current producers to have first opportunity, but with the expanded market we will need both to meet the demand."
Haren noted that, if local supplies can't meet Leprino's daily needs, milk will have to be shipped in from outside the area - and the cooperative would have to pay the freight.
"If this is balanced properly and you manage the growth and have enough production for the demand, everybody should be pretty happy," he said.
Hardesty said the arrival of Leprino and its ongoing demand for local milk will be a great thing for rejuvenating the region's dairy sector.
"I wouldn't call it a lifesaver, but I see opportunity," he said. "I certainly see it as an opportunity for a farmer to bring in a next generation and to expand with a solid local market. It's really a wonderful opportunity."
-
Special Coverage
Reader Submitted News
No reader submitted news available.
ADVERTISING