Education
Using nature's bounty to solve global issues
By Joshua Zaffos
May 20, 2011
GREELEY - Stephen Mackessy was a teenager when he became interested in snakes, and he learned the first and most essential lesson of handling lethal creatures early on - the hard way.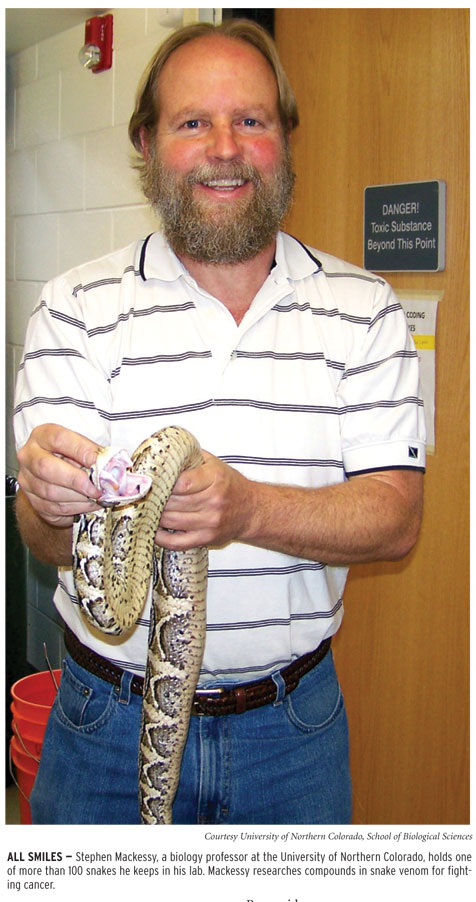 At his after-school job for a company that supplied snakes for schools and zoos, Mackessy, then age 15, let his attention slip for a moment while moving a Southern Pacific rattlesnake.
"I wasn't using my head," recalled Mackessy, now a biology professor at the University of Northern Colorado.
He picked up the snake by its tail, allowing it to whip around and bite him between his fingers. The rattler was a newborn so its bite wasn't as dangerous as an adult snake's, but Mackessy's arm ballooned up to his shoulder and he had to spend six nights recovering in a hospital.
"Fortunately, I can be taught," said Mackessy, although what he learned wasn't to stay away from poisonous animals. The UNC professor now keeps more than 100 snakes in his lab, researching how compounds in their venom can be used in cancer-fighting drugs.
Mackessy isn't alone at UNC in finding inspiration from nature to help solve global problems. Biology and biotechnology professor Chhandak Basu is studying how plants and trees can offset pollution from cars and industrial sites, or maybe meet fuel needs. Both professors have received state funding to explore the commercial applications of their research, and the studies in emulating nature's services could lead to seemingly supernatural scientific breakthroughs.
Stressed trees filter air
Basu grew up the curious son of teachers in Calcutta, India, and, like Mackessy, his research interests date back to his youth.
"I've always been fascinated with plants," Basu said.
At his lab at UNC, Basu studies the underlying molecular and genomic responses that occur when plants are impacted by changes in the environment. Chemists from the National Center for Atmospheric Research in Boulder asked him to look into the biological aspects of plant stress response.
Working with graduate student Brenda Thornton and NCAR chemists, Basu has discovered that when poplar trees filter air, helping to rid the environment of smog or other pollution, they show elevated gene levels that increase their cleaning prowess.
"When plants are stressed, they turn on these genes - probably to purify," Basu said.
The findings, published last year in the influential peer-reviewed journal Science, indicate that stressed plants can clean air pollutants 36 percent faster than scientists had realized. Basu said the results could lead to the development of genetically modified plants to reduce air pollution. The modified plants could then be planted along highways and around industrial zones.
"He's onto something that could be really beneficial, not only to the country, but to the Northern Colorado region with the farming communities we have here," said Robbyn Wacker, assistant vice president of research at UNC.
Basu is now aiming for federal funding to continue and expand on his work and to develop his findings toward commercial viability. Basu is also studying other ways people might harness powerful plant traits, including the potential of tropical species as biodiesel fuel sources.
So far, that project has received $15,000 through UNC's Office of Sponsored Programs and nearly $100,000 through a bioscience grant from the state Office of Economic Development and International Trade.
Mackessy has also turned to the state economic-development office to support his work. After preciously receiving more than $53,000 from the state in 2007, he was awarded a second grant for $50,000 earlier this year.
Fangs in the back
While Mackessy isn't alone in studying medical applications from venom-derived products, he has carved a somewhat singular focus. Most research projects with snakes have studied front-fanged species that produce a lot of venom, such as rattlesnakes. Mackessy also works with rear-fanged snakes, like hognose snakes that occur in Colorado, which release smaller doses of venom.
"At the moment, there's probably about three venoms from rear-fanged snakes that are commercially available worldwide," Mackessy said. "So, generally speaking, if you're even looking at these things you're going to have to get the snakes and do the extractions yourself."
Besides being understudied, rear-fanged snakes are a little easier to work with since their venom is typically low in toxicity. Scientists have to anesthetize the snakes and then stimulate the slow release of venom. With front-fanged snakes, on the other hand, venom can be collected quickly while the creatures are active - but handlers risk a higher toxicity bite.
After collecting the venom, Mackessy purifies it and then looks at the effects of the crude and refined elements on cells. If they trigger changes, such as cell proliferation, Mackessy and student assistants do further tests to study the impacts of different components on skin, breast, lung and colon cancer cells. The cell-specific consequences on different cancers suggests that the venom-derived products are not just annihilating all forms of life and could have medical applications as anticancer drug compounds.
Mackessy hopes his results and research will attract more funding from entities such as the National Institutes of Health. He has also had some preliminary conversations with small biotech companies.
"We're still at a pretty early stage, but I think we have compounds ready for second- and third-stage testing within a year," Mackessy said. "Indications are we do have something of commercial potential."
Support for tech transfer
While the scientists both have more research - and grant-writing - ahead of them, their biotech projects are receiving support for tech transfer services from University of Northern Colorado.
Both projects have "great potential" for commercialization, according to Wacker, and the administration is helping the professors explore options as they move forward.
"We are trying to establish services for faculty to help with consultations about intellectual property and tech transfer," Wacker said, "and to maybe work with them to determine whether things are patent-able."
Beyond the researchers' inspiration through nature, Mackessy is also driven by a factor other than his passion for snakes. Twelve years ago, he was diagnosed with Stage II (high-risk) melanoma, so he knows the fears and hazards faced by a cancer patient.
The motivation hasn't gotten the better of him, though: Mackessy estimates he has handled roughly 10,000 snakes since he was bitten years ago and he hasn't had another accident.
-
Special Coverage
Reader Submitted News
No reader submitted news available.
ADVERTISING